Final FAM Giveaway!! Week 4 is Here! $500+ Prize!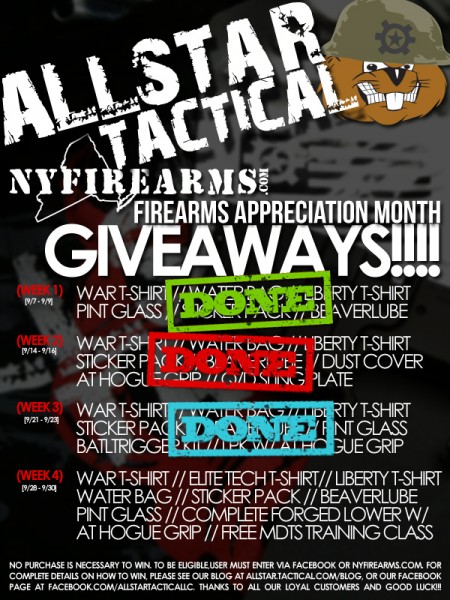 Week 4 Giveaway is Here!!!!!
To be eligible, you must comment and share the photo on our facebook page, comment here on our blog, or comment on the thread in our section on NYF. We will compile a list of people and randomly choose one to win the prize pack. We will announce the winner via Facebook, NYF, and our blog. Good Luck!
LIKE AND SHARE THIS TO WIN!!! The more likes we got on our page, the better stuff we'll give away! This time we're going to allow people to enter up to 3 times into the drawing. To take full advantage of your 3 entries, you must like/share/comment on facebook, post a comment here on our website, and post a comment on the week 4 thread on NYFirearms.com. We're going to give something super awesome away at 5K likes and 10K likes!
Check out the products we're giving away: War T-Shirt, Elite Tech T-Shirt, Liberty T-Shirt, AT Pint Glasses, BATLTRIGGR Kit, AT Sticker Pack, BeaverLube, Dust Covers, AT LPK's, and AT Hogue Grips. Exclusive to this giveaway is a gift certificate from MDTS Training for a free class! That's up to a $150 value!
Thanks for being such great cutomers!!