New Product Announcement - DELTA Muzzle Brake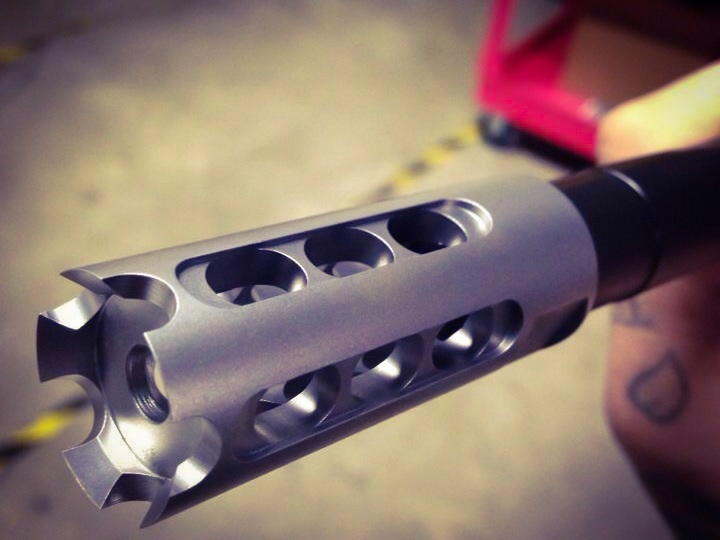 We are pleased to announce a brand new product: Our DELTA Muzzle Brake. This muzzle brake was designed and prototyped in-house and made locally for us by a local turning shop. It is made out of 4140 steel, hardened, and finished in QPQ Nitride (aka Melonite). With five sets of three ports, set at 72 degrees from each other, we are able to achieve great gas modulation and release, thereby reducing recoil and muzzle rise. Additionally, we worked with some local martial arts and impact fighting experts to make sure we designed the brake to be able to used as an impact device if needed.
These muzzle brakes are in production now and will be available for sale within 4-6 weeks. Retail MSRP is going to be extremely reasonable at $59 including a Mil-Spec crush washer. These will be available on our website as well as at our dealers. Feel free to contact us if you have any questions about our new brakes.
Below is an unbiased review by one of our local FNG's who took one of our prototype brakes out to the range...
Allstar Tactical Muzzle Brake

Mat'l: 4140 Annealed

OAL: 2"

Cal. .223REM (5.56 NATO)




The "Stabby MK-1"

Today I went to the range to test out Allstar Tactical's new muzzle brake. To get a good idea of how efficient of a brake it is, I first installed a birdcage brake commonly found on AR-15 barrels. After firing a few rounds, I switched over to the Stabby MK-1 and noticed a definite difference in performance.




The first thing I noticed was the lack of recoil. It felt almost as soft as a .22lr being fired. The only push I felt was from the recoil spring sending the bolt back forward to the barrel.




The recoil did send the muzzle up and to the right, but no more than it would from any other non-compensating muzzle device.

The muzzle flash was something else! The brake makes a nice flash and sends out heat waves about two feet out the sides of the brake.




There's a notable but completely tolerable concussion from the backblast coming from the muzzle brake's fifteen ports.

The teeth on the front of the brake aren't sharp enough to cut your fingers up, but they're sharp enough and definitely strong enough to dig deep into a wooden door to shoot out a dead bolt. Any typical angle for door breaching is easy with the teeth on this brake. It doesn't start to slip until you're as close as 30 degrees from the door.




Even in its non-heat treated state, it's a very durable and efficient muzzle brake.