Corkscrew Flash Hider Now Available for Purchase / Lower Delta Brake Price!!
Our CorkScrew Flash Hider is now available for purchase. The price is $60 MSRP and they will be shipping by mid next week. We are just waiting for packaging to show up! Check out the information on them below: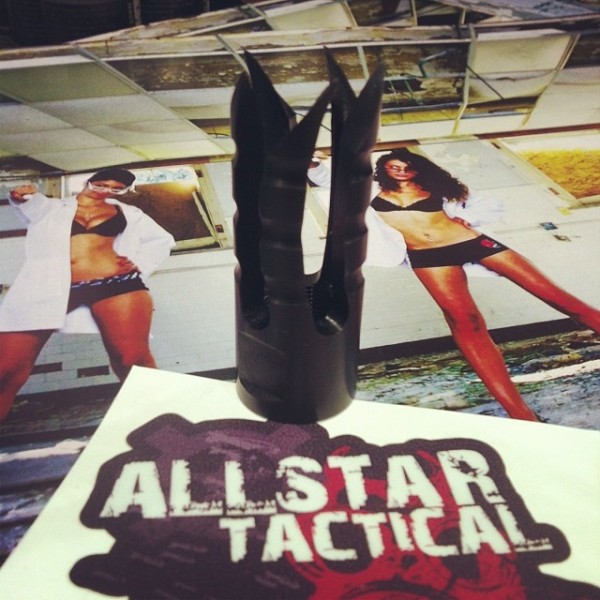 Our second in-house designed muzzle device comes in the form of this crazy "CorkScrew" Flash Hider. These flash hiders feature 5 curved prongs to aid in speeding up the release of gas, preventing after-combustion, which causes flash. The ends of the prongs have also been chamfered into extremely sharp penetration devices which can be used as a impact device. The design is very effective in reducing the flash signature of the rifle. An additional feature of the curved designs is the ability for the muzzle device to self-tighten, reducing the need for higher torque tightening.

Our CorkScrew flash suppressors are precision machined from 4140 high-carbon-steel, heat-treated to 55RC, and then finished using Ferritic Nitrocarburizing. Ferritic Nitrocarburizing, also know as QPQ Nitride coating, raises the final hardness to 60+RC and gives it a nice satin black finish. They are threaded to the standard AR15 / M4 / M16 5.56 threads of 1/2-28 UNEF for easy installation.

When installing this muzzle brake, we include a crush washer for ease of install, but it is optional due to the auto-tightening nature of the flash suppressor. There is also no need to align or clock this flash hider.
We have also decided to reduce the price on our Delta Muzzle Brakes to $45. Grab them while they're hot!